Tattoo Blog Worth Reading
Everything You Need to Know About Kiss Tattoos
💋 Lips kiss tattoos are so trendy these days!
There are plenty of reasons as to why kiss lips tattoos are getting popular, but the most important one is because they can be easily inked on any part of your body.
Neck, arms, wrists, waist, buttocks, and breasts - no part of the body is 'not suitable' for getting yourself a kiss or a lips tattoo. 
The same goes for color: full coloring, shaded edges, blackwork, or dotted technique - it doesn't matter because every tattoo artist gets dozen of kiss lips tattoo requests on a regular basis.
Lips Tattoo Meaning
There are many lips tattoo meanings and many tattoo lips designs you can choose from. 
A tattoo of lips, particularly female lips, is often used in a color or pattern and associated with passion. This lips tattoo will usually be in color and look lifelike as if someone has just kissed the tattoo owner with the lipstick on.
Red lips, usually with an open mouth, are a symbol of counterculture, the connection to the erotic and sex appeal. But the image of open-mouth lips can go beyond the sexual connections! It can serve as a representation of communication and verbal discussion while closed lips can represent a lack or an inability of communication. 
A lip print tattoo can symbolize a relationship. Lip print can be a reminder of the connection tattoo holder has with their partner. It can represent a romantic bond between two people, and sometimes we can see both people in the relationship with matching lips tattoos. 

As we pointed out earlier there are many lips tattoo meanings. But in the end, the meaning and design of a tattoo is a very personal thing, and those who get the lips tattoos will give their own personal and important meanings to them.
Neck Kiss Tattoos
The neck is definitely one of the go-to body spots for getting any tattoo done. And the lips kiss tattoo sits well on the neck. It is also interesting that a kiss tattoo on the neck area fits well for both men and women. 
The shoulder is one of the safest places to get a bold and trendy kiss tattoo design. You can hide it very well while wearing a tee or shirt, and flaunt it whenever you want by wearing a cold-shoulder dress or top. The shoulder kiss tattoo is more requested by women, although men can pull it off quite well. 
PRO TIP: Rather than just one, try getting two or more kiss tattoos! Play around with the design and the colors.
Forearm & Arm Kiss Tattoos
The forearm and the upper arm are also good body spots for carrying lips kiss tattoos. You can play around with designs, styles, and coloring to add a bit of spice to your tattoos.
However, if you are a white-collar office worker it probably wouldn't be a good idea to go with the forearm or upper arm kiss tattoo. Yet, if that is your choice we absolutely support you but it would be a smart thing to reconsider before making a final decision.
Now, it may not seem so, but black is an excellent color to get your lips kiss tattoo done in.
Black lips are synonymous with an important and perfect appearance and impart a sense of curiosity in the on-looker. This design is perfect for you if you sport an overall mystical vibe in your personality.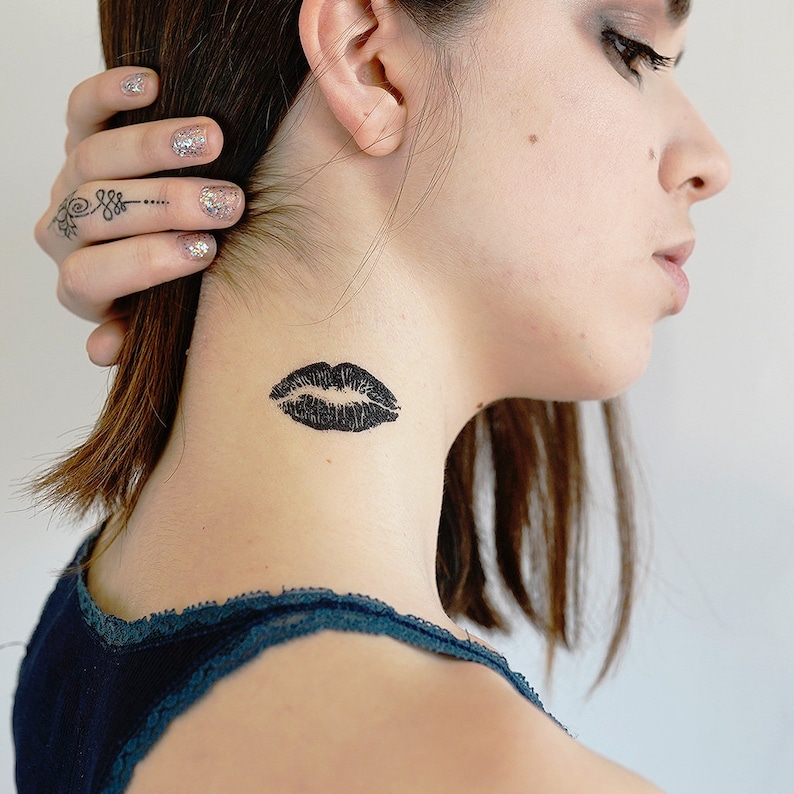 PRO TIP: 
Test this idea if you don't believe us. 
Use our
Black Lips Kiss Temporary Tattoo Set
- you will receive 2 (two) lip kiss tattoos and you can apply them on any part of your body! 
Calf & Thighs Kiss Tattoos
Similarly, the calf or the thigh is also a good enough option for kiss tattoos. 
Experiment a bit around the styles like a cherry or a bullet in the mouth to up your look a bit. As a woman, you can sport such style statement tattoos with short dresses or even high-slit ones. Using a cherry or a bow in red colors is a sure-shot way of garnering more attention to your tattoos. Also, you can shape up the teeth a little bit to give a vampire-like effect.
Buttocks & Chest Kiss Tattoos
As mentioned before, the buttocks and the chests/breasts too can double up as a good canvas for your lips kiss tattoos. In fact, these happen to be just the right place for getting such seductive and erotic tattoos done. So when you finally bring tattoos out, it will be a treat to watch.
Many people refrain from getting kiss tattoos done on private parts of the body due to their sensitive skin. We recommend you make sure you get inked where your skin is a bit tighter and strong enough to withstand a tattoo.
 The tongue seductively tracing the corners of the lips or a biting lip are just some of the ways you can add a little bit of style to your lips kiss tattoo. Make sure you pick a monochrome design, like the examples above. If you are looking to experiment with colors, use contrasting colors like blue or green so that your tattoo can stand out better than the usual ones. Also, such tattoos look amazing with cold shoulder dresses and cute thigh-high shorts. 
How to Wear Your Kiss Lips Tattoo
Many people assume that a kiss tattoo is always far from being 'decent or 'conservative.' However, the following pictures prove that is not always the case.
As you can see, one can easily transform a kiss tattoo into something cute and sweet by placing it at the right spot on your body, using the right colors, and styling it a certain way. There are multiple ways one can style their tattoo. 
Conclusion
As we pointed out a few times through this article, before getting a kiss lips tattoo done it is important to have answers to the following questions:
What kind of kiss tattoo do you want?

Where on the body do you want to do the tattoo?

Will you feel comfortable with it?
With the tattoo design, you can do whatever you want - use contrasting colors like black and pink, add words, etc. You can easily convey a subtle message through your kiss lips tattoos, tell your life story and talk about your feelings without even anyone understanding. Feel free to spice it up by including props such as candies, beads, the tongue, or any other item. Use a bit of shading for a bold effect. 
Your tattoo doesn't have to be confined to only one part of your body. You can extend it to the entire arm or leg using the suggested props, but only if you feel comfortable with that. Getting these bold and loud tattoos done will only take your looks a couple of notches higher than everyone else's. We say give a new meaning to your lips kiss tattoo, get inked, and flaunt it away like there's no tomorrow!
Looking for a way to test out your tattoo idea before getting permanently inked?
 Check out our Temporary Tattoo Designs or send us your custom design!